Shangri-La Bed and Breakfast
The Spa, Tralee, Co Kerry
eircode and Map: V92 TE84
Click here for the wide map
Tel:  +353 (0)66 7136214
email: shangrila_spa@hotmail.com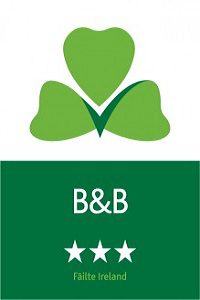 GPS Coordinates: 52.275458, -9.786758
Shangri-La bed and breakfast accommodation is a tranquil and secluded residence located just 10 minutes from Tralee Town. This welcoming and cosy home is nestled on 1.75 acres of land, which overlooks spectacular views of Tralee Bay. All rooms are ensuite
and furnished to the highest of standards so guests are guaranteed a peaceful, relaxing and memorable stay.
Shangri-La has the advantage of a rural setting, but there is an abundance of activities and amenities nearby. You can enjoy a leisurely 10-minute stroll from Shangri-La B&B to the beach, as a scenic pathway meanders down from the house to Tralee Bay. Within 10 minutes of this stunning residence, there are two excellent restaurants, a pub, Tralee Golf Club, horse-riding and watersport activities such as sailing, swimming, fishing, kayaking to name a few.
This bed and breakfast is an ideal base for touring Dingle, Kerry and Tralee. Your host, Mary, will be delighted to advise you on the best things to see and do in the area and after a busy day, you can look forward to a relaxing evening in idyllic surroundings, in this inviting and homely B&B.
Book Online Now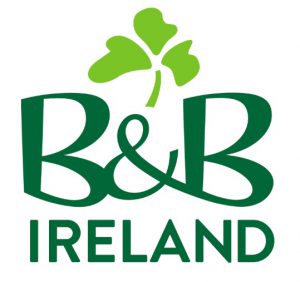 You can book Shangri-La bed and breakfast accommodation through our secure online booking facility by using the "Book online Now" form above. You will receive an instant e-mail confirmation for your booking. Alternatively you can contact the B&B directly using the contact details or enquiry form on our Contact Us page.
SHANGRI-LA B&B, The Spa, Tralee, Co Kerry
Tel: 00353 (0) 066 7136214, E-mail: shangrila_spa@hotmail.com
Visit Shangri-La B&B on B&B Ireland

Latest B&B Ireland Customer Reviews
Lee & Les Lobaugh
Review Score: 9/10
We enjoyed our stay...facilities were very good and the host was very helpful during our overnight visit. I lost my Cell Phone during this visit...if found in room...would you please contact me so we can arrange return?
Bob and Terry Roos
Review Score: 8/10
We had a heck of a time finding SHANGRI-LA but our hostess, Mary, found our location and guided us easily to the B&B. Mary is a great host, with a sweet personality and ready smile. Our room was lovely. There were some breathtaking views from the property. Breakfast was bountiful and we enjoyed having breakfast with a young newlywed couple. They were a highlight of the trip for me as was the table around which we shared a meal. Thanks for the hospitality, Mary.
Audrey
Review Score: 9/10
One of the most beautiful B&Bs I have ever stayed at. The view is breathtaking and the gardens are magical. Mary gave us a great recommendation for sight seeing that we were unaware of and was probably my favorite part of the trip. It is a little difficult to find with gps and google maps. Highly recommended for the scenery and hospitality.
Pol Van Gremberghe
Review Score: 8/10
Nice and clean room. Great breakfast, Friendly welcome
Christian
Review Score: 8/10
We had a good time at Shangri-La though we didn't find it that easy because googlemaps mixed it up a little bit. Mary made us feel welcome, we had a little chat and she recommended us some nice places to see nearby. Mary and her husband have a beautiful house with lots of roses in the garden that you can see when sitting in the living/dining room. The room was comfortable and clean with ensuite bathroom. We had a delicious cooked Irish breakfast to order in the morning and another chat about this and that. We would stay at Shangri-La again.
Reviews Powered by B&B Ireland